Sen. Street Hosts A Business Diversity & Inclusion Event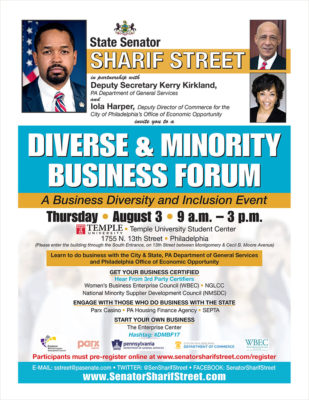 PHILADELPHIA, July 26, 2017 — State Sen. Sharif Street, in partnership with the Pennsylvania Department of General Services and the Philadelphia Office of Economic Opportunity, are hosting a Diverse & Minority Business Forum on Thursday, Aug. 3 from 9 a.m. to 3 p.m. at Temple University's Student Center, 1755 N. 13th St. in Philadelphia.
Senator Street, DGS Deputy Secretary Kerry Kirkland, Mayor Jim Kenney, Office of Economic Opportunity Deputy Director of Commerce IoIa Harper, along with representatives from various state, local agencies and third-party business certifiers will provide information on doing business with the city and state.
"It's critical that Pennsylvania supports a diverse and inclusive economic landscape, which benefits all Pennsylvanians," Sen. Street said. "This forum is a unique opportunity to assist business owners and entrepreneurs by bringing together a variety of state and local resources that can share information and guidance. Participants will learn about starting a business, getting a business certified, doing business with the state and more."
Participants are welcome to pre-register at http://www.senatorsharifstreet.com/register.
Media coverage is welcome.
WHO: State Sen. Sharif Street (D-Philadelphia)
WHAT: Diverse & Minority Business Forum
WHEN: Thursday, Aug. 3 from 9 a.m. to 3 p.m.
WHERE: Temple University's Student Center, 1755 N. 13th St., Philadelphia
###